Top 10 reasons to make a Will
3rd August 2017 by Kate Mansfield
Despite the preparation of a Will being straightforward and relatively inexpensive, nearly two-thirds of the British adult population do not have a Will.
Are you one of them?
Here are Laceys top 10 reasons why you should make a Will today.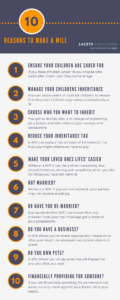 Give yourself and your family peace of mind and write a Will today.
If you would like to write a Will or update your Will please contact Kate Mansfield today on k.mansfield@laceyssolicitors.co.uk or 01202 755980 and she will be able to help.